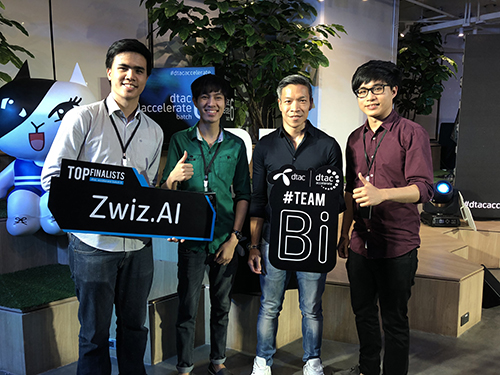 (Photo: ZWIZ.AI Team with mentor from LINE Thailand)
In 2017, Art(CEO) received Master's Degree in Computing(Artificial Intelligence) from Imperial College London. He went back to Thailand and he wanted to apply what he had learned to businesses. He started as a freelancer to implement AI Chatbot for businesses and he found out that many business needs/problems can be solved with AI Chatbot. In December 2017, he founded ZWIZ.AI, AI Chatbot Platform, with his undergrad friends Poo(CTO) and Game(CDO).
ZWIZ.AI is an AI Chatbot Platform for business. The meaning of ZWIZ.AI in Thai is 'bring AI to life'. Within 6 months after founded a company, the team (with 3 persons) has implemented AI Chatbot on Facebook and LINE for more than 120 businesses in Thailand, which help more than 500,000 users and already replied more than 5 million times. The goal of ZWIZ.AI is to bring AI Chatbot to help all kind of businesses to service customers and analyze data.
UPDATE:
In 2020, ZWIZ.AI platform has more than 15,000 businesses using and replying to millions users a day on Facebook and LINE. We are planning to scale to more platforms and more countries.
ZWIZ.AI Awards&Recognition
Rising Star Awards from 100SID Program, 2018
Joined Dtac Accelerate batch 6, 2018
TED Fund batch 2
Best AI/Machine Learning , ASEAN Ricebowl Awards 2019 (Thailand)
More About Us
techsauce.co/en/tech-and-biz/5-chatbot-and-health-tech/
https://www.posttoday.com/life/life/537547
https://www.posttoday.com/ent/celeb/541859
http://daily.bangkokbiznews.com/detail/322236
Contact Us: sales@zwiz.ai